Our History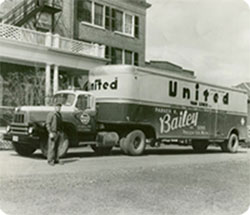 In the 1940's our grandfather, Parker K. Bailey, using a tarp covered pick up truck, hauled ice, hay, and produce from market to market. By the early 1960's the company had expanded to include moving household items.
With this expansion came the addition of Parker's two sons, Kendall and Milton, who joined the growing transportation company as they expanded even further into relocating households and businesses locally and out of the state of Maine.
In the late 1980's three of Parker's grandchildren, Craig, Kent and Mark took the reigns of the company their Grandfather started. "Quality Service" as the core value, a longstanding relationship with United Van Lines of almost 50 years, their visions of continuing growth by offering additional moving services like U-haul and BoDs, has allowed them the opportunity to relocate families all over the world from and to Maine.
Let us make your move smooth. Let Parker K. Bailey Total Moving Solutions be your complete moving solution!